Commercial and Industrial Burglar Alarms and Security System Services
Protect your business with a burglar alarm system
Protecting your business and property from theft and vandalism is a growing concern in today's society. When your building is broken into or a window is smashed, you want to be notified immediately. With security system monitoring and mobile access to your system you will always know that your property is secure. Security and burglar alarm technology is becoming more versatile and economical every day. Lexicon Security employs some of the most knowledgeable security technicians in Edmonton. Many of our installers have over 10 years experience in this relatively young industry.
Secure your investment with commercial intrusion detection systems from Lexicon Security.
Lexicon Security serves businesses of every size and offers custom designed security systems based on the type of business you own and the valuables you want to protect. With a wide range of services and broad base of expertise, our team is prepared to meet all your current and prospective security needs.  Our security consultants will assist you in designing a security system and providing a level of service that complements your organization.
With professional installation by highly skilled technicians, industry certifications and the best equipment available, you can be sure your security solution will meet the high standards you would expect.
 
Protect your business with a high-powered hybrid security system
Introducing the DSC PowerSeries Neo for small business and commercial customers
PowerSeries Neo captures the flexibility of a modular, hardwired system with the simplicity of a wide range of wireless devices and peripherals, giving you a comprehensive and vertical hybrid system best suited for scalable commercial installations.
As the most comprehensive hybrid system available in the market today, the PowerSeries Neo leverages the most innovative wireless technology to deliver industry leading flexibility, reliability, and scalability. This ground-breakingly comprehensive and versatile hybrid security system is suited for organizations of all sizes; from small business structures to large-scale commercial or industrial sites.
Whether you are looking to utilize existing hardwired equipment or start from scratch with a wireless platform, the DSC Neo can deliver a solution that will compliment your organization.
Compatibility with wireless PowerG technology allows for the most flexible installation, even in challenging environments. A wide selection of wireless devices means commercial installations are no longer subject to wiring limitations or installation timelines that are difficult to predict. Easy to use, and esthetically sensitive, all keypads are available in fully functional wireless models for the ultimate in customization.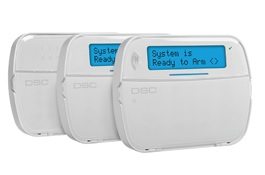 The PowerG Wireless transceiver and sensor devices utilize revolutionary technology to overcome frequency blocking and avoid RF interference, ensuring reliable, long range communication. Adaptive transmission power supports long battery life and 128 bit AES encryption ensures transmission security.
With a variety of control panels, a complete line of expansion modules, and a wide range of PowerG wireless devices, your investment is protected and future expansion is made easy. Your organization will grow – Neo is ready to grow with you.
Contact Us today for a quote